September News
September is here and it's a plentiful time. The best of the summer crops continue including french beans, cucumbers, tomatoes, aubergines and sweetcorn, alongside new harvests of squash, apples, cauliflowers and soon, leeks. Our farm school is re-starting too. Read on for details of our new farm school sessions, updates from the farm, recipes, and where you can find our new Devon-grown edamame beans.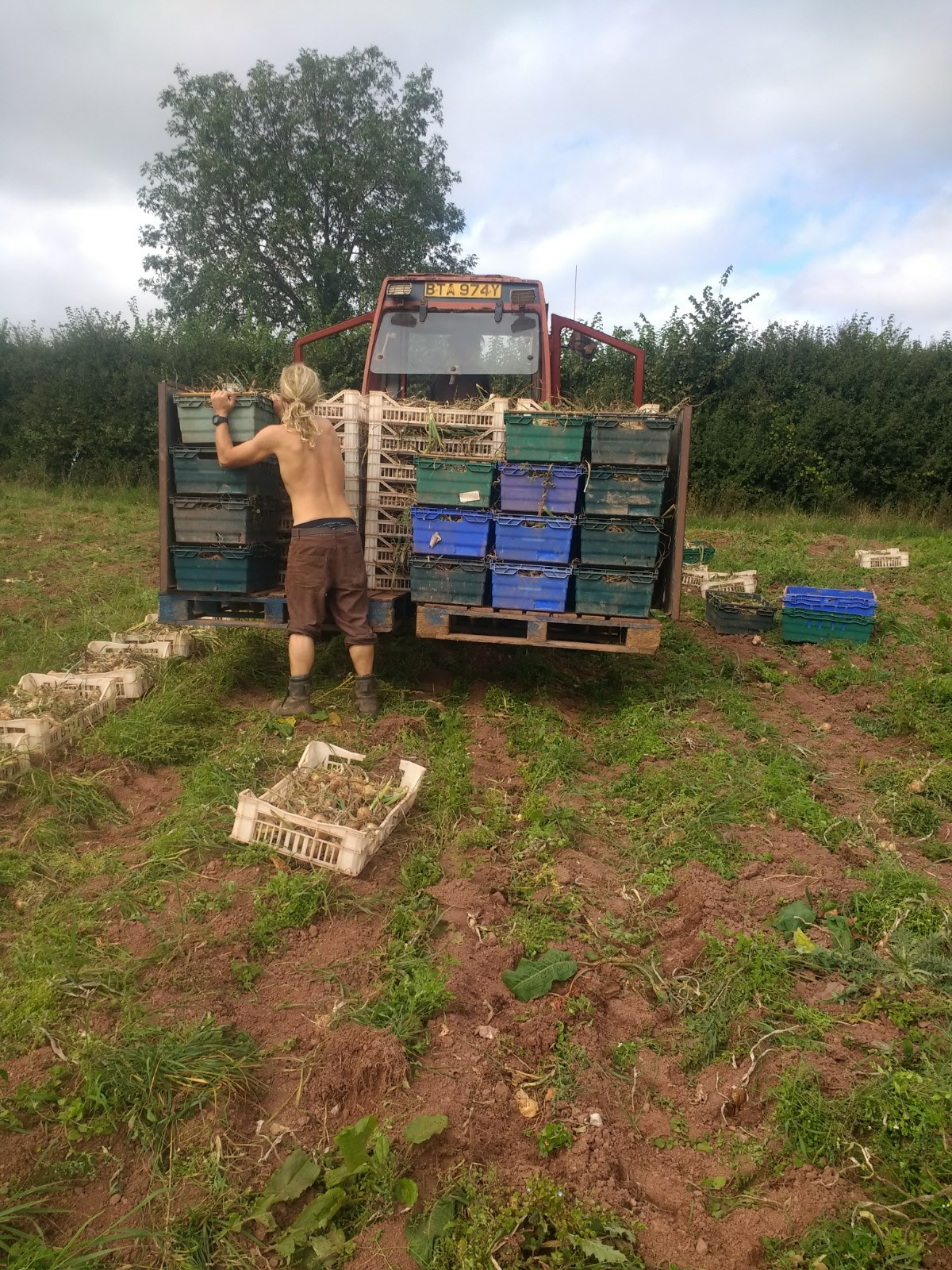 Farm update
Our onion harvest is almost complete for another year. Over the past month we've been busy bringing the onions in to cure in the polytunnels. Unfortunately our red onions were affected by mildew so they didn't grow as big as we'd hoped, but the white onions and shallots are looking great. We aim to have our own Shillingford-grown onions available for as long as possible, with regards to climate, acreage, workload and storage facilities. This harvest should now keep us going until the end of January when storage becomes more tricky.
It's apple time here on the farm too. We have 14 different varieties of Dessert Apples which vary in harvest date from mid-August till November. The later, 'storing' apples should keep until January. This table shows when each apple should be ready for eating. Look out for the on our online shop and at Exeter Farmers' Market.
VarietyDate to eat DiscoveryMid – late AugustRedJames grieveLate AugustGreen with red flushSunsetSeptemberSmall, green with touch of reEgremont RussetLate SeptemberRussety, hard skin but exceptional nutty taste JupiterOctoberBright redRosemary RussetsOctoberGreen with red russet blushNewton WonderOctoberDual purpose, reddish Adam's PearmainLate OctoberPear shapedBlenheim OrangeLate OctoberLarge, green and red Ashmeads KernelStore November to JanuaryRussety greenPixieStore November to JanuarySmallish, green with red tingeWinstonStore November to JanuaryLarge, reddishClaygate PearmainStore November to JanuaryReddish blushD'Arcy SpiceStore November to JanuaryRusset green/ brownThere are plenty of cabbage white butterflies about at the moment whose caterpillars like to munch on our brassica crops. However, we are also finding plenty of evidence of parasitic wasp activity. What you can see pictured are the wasps who have recently emerged from these yellow cocoons. The wasps began life when their mother injected her eggs into a cabbage white caterpillar. After hatching the larvae consume the caterpillar from within avoiding the vital organs to keep it alive. All at once they gnaw their way out of the host, temporarily patching the hole as they do so. The caterpillar, still alive, actually protects the larvae as they spin their cocoons and eventually emerge as wasps to continue the cycle. It's gruesome, but its natures way of keeping things in check. Although we have plenty of cabbage whites about, the damage is very minimal and they also provide food for birds and various other creatures and so on up the food chain.
French Beans
Phaseolus vulgaris
French beans (Phaseolus vulgaris) are a summer staple up here on the farm and make a regular appearance in the veg boxes. Like most legumes, they are easy to grow as they don't suffer from many pests or diseases, so are a common sight in allotments and gardens. We aim to supply the box scheme, online shop and farmers market with freshly picked French beans from June right through until the end of October. For an early crop we use an open-pollinated variety called Purple Teepee, and these are sown at two-week intervals in March and April to be planted in the tunnels. Once the risk of frost has passed in May, we then direct sow into the ground outside, which allows us to up production levels quite a bit, using the green podded Stanley and Faraday beans as well as the Purple Teepees.
French beans can be eaten raw, though after only a couple of them you may wish you'd cooked them, which is extremely simple. As a quick side dish, steaming is quickest, though sautéed or roasted may absorb more flavour, especially if done in combination with salt/pepper/garlic/butter/oil. Or for something a bit different there's Thai curry with coconut milk or a Japanese snack with soy sauce and sesame seeds (ingen no goma-ae). Whatever recipe you go for, don't be surprised when the purple pods magically turn to green!
If you like these beans and have even the smallest bit of space somewhere outside, why not try growing some next year? We've just done our last sowing of 2020 so it's maybe a bit late for this season but for next year there are many different organic, open-pollinated varieties available – Tamar Organics alone has 15! The bush varieties crop well up here (and require less work), though if you are really tight on space there are also plenty of climbing beans available, which can be trained up any vertical support.
Recipe: Roasted Ratatouille
Enjoy the last of the summer'ss courgettes, aubergines and tomatoes with this delicious roasted ratatouille recipe from River Cottage.
Ingredients
Olive oil
1 large aubergine, cut into cubes
3-4 courgettes or patty pan, cut into chunks
2 medium onions cut into fairly thick slices
1 tin chopped tomatoes
Salt and freshly ground black pepper
4 garlic cloves, finely chopped
A handful of basil leaves, torn
A handful of thyme leaves
Method
1) Put all the chopped veg into a large roasting tray, drizzle with olive oil and put into the oven to roast for about an hour. Keep checking and shaking/stirring to ensure that the veg cook evenly.
2) Meanwhile, prepare the tomato sauce. Add a little olive oil to a pan and add the garlic so that it cooks very lightly. Add the chopped tomatoes and cook on a low heat. Add salt, pepper and thyme leaves, a teaspoon of sugar and leave to cook gently.
3) Once the veg has cooked, add the tomato sauce, stir and return to the oven for a further 10 minutes.
4) Sprinkle with the basil leaves and serve with a chunky slice of bread or brown rice, and a corn on the cob or some green salad!
Shillingford Organics Farm School is back
The outbreak of Covid-19 has highlighted the critical impact of the food system and our food choices not just on our personal health but also on animal and planetary health overall. Just as it has been testing times for many people who were unfortunate to suffer from the pandemic in all sorts of ways, it has also been a time for many of us to reflect and rethink our relationship with nature and reclaim our roles as stewards of the land. It is exactly for this reason that we have decided to open our Farm School field again to all curious heads, hands, and hearts, little and big. Farm School will be running a small number of groups with limited capacity from the week starting September 14th, 2020. Sessions for this term will be running on:
Wednesday mornings (younger ones)- 10:30-12:30
Thursday mornings (homeschoolers) 10:30-12:30
Friday after school club- 4:30-6:30
Fortnightly Saturdays 2-4:30 pm
Thanks to our Farm School leader, Dave Parry, we have been able to continue growing at Farm School during the lockdown, we are so grateful for all the love and care he has given to Farm School when we were not able to come on-site, and wish him all the best with his new land adventure. Thanks to Dave there are plenty of crops for the children to harvest and save seeds from for the following season.
As the lockdown eased off, we were able to resume work on-site, complete an outdoor kitchen, and install new hand washing and washing up sinks for our food preparations with the children and their families. Please check what measures we've taken to safeguard you and your children while running during COVID-19, and for details of our groups on the Farm School page here:

Please do get in touch if you have any questions: farmschoolcourses@gmail.com, and we look forward to celebrating the Harvest Season with you all!
Try our Devon-grown edamame beans!
These are immature soy beans that can be cooked in many ways, but the classic Japanese method is to boil them for 2-3 minutes until the beans go soft, strain and add salt and then pop the whole pod in your mouth, squeeze the beans out and discard the empty pod, preferably done with a cold beer alongside!
We usually focus on the staple veg here at Shillingford Organics but its fun to try new crops from time to time! Our edamame beans will be available at Exeter Farmer's Market and on our online shop for the next couple of weeks. Try them while you can!